WE HAVE MOVED…
We are now
KinderHaus Montessori
at 90 Lake Ave., Richmond Hill, Ontario L4E 3G3
Please contact us for more details:
Phone: (289) 234-5454
Email: khm@KinderHaus.ca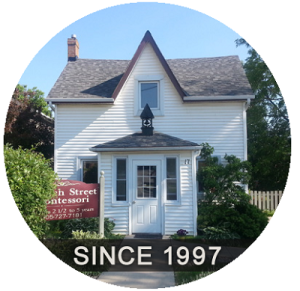 In 1996, in a casual conversation on the subway between two classmates from the Foundation for Montessori Education, was born the idea for a small Montessori school. Their idea saw the light of day in 1997, when Sujata Kanianthra and Laurie Chapman founded our school at the Blue Hills Child and Family Centre on Bloomington Road West and called it Bloomington Montessori. Five years later, the school was moved to its current location on 17 Church Street in the heart of downtown Aurora – just across from Aurora Public Library amidst century old homes and buildings. We renamed it Church Street Montessori.
Ever since it foundation, tiny tots from the ages of 2.5 years to 6 years have embellished our school with their presence. We love nurturing children and our newly renovated quaint century home with a large backyard is ideal for our children to learn, socialize and play in a home-like environment.
Years have rolled by and the only changes that the school has seen in the past seventeen years are the retirement of Sujata and the coming aboard of our new Administrator and Casa Directress, Kalpana Gananathan. Laurie continues to be the kind face that greets our parents and children every morning. The chance meeting of Sujata, Laurie and Kalpana happened when Kalpana walked into their school as an AMI practice teacher in 2007. Little did the three of them know that their similar personalities, love for children and their passion for children's education would eventually blossom into Kalpana taking the place of Sujata in June of 2013.

On April 1st, 2016, we became officially An AMI Recognized School – THE ONLY such school in Aurora, serving Newmarket, Richmond Hill, King City and Stouffville areas! The AMI Recognition is is the highest accreditation granted by the Association Montessori Internationale (AMI) for schools practicing authentic Montessori methodology and principles as established by Dr. Maria Montessori. We sincerely thank our staff and our school community for all the support and encouragement they gave along the way.
For more information, please download our brochure.