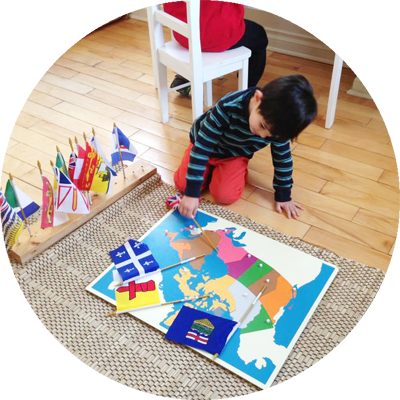 Our registration process is a three-step process as outlined below. It purposely designed to help you understand our school, our methodology and our passion in nurturing young children. We will do our best to help you understand Montessori education so that you can make well informed decision best suited for your child.
Step 1 – Take a tour of our school and understand Montessori education
Please contact us to arrange for a tour of our school. This tour takes about an hour and is usually done when children are not present at school. We will be happy to accommodate your visit on weekday evenings, weekends or on holidays. You are welcome to ask plenty of questions to understand the workings of our school and Montessori education.
Step 2 – Observe our classroom in action
At the end of the school tour, we will schedule a date for you to observe our classroom in action. Observations are scheduled during the morning work cycle, Monday through Friday, usually for 20 minutes between 9:15 am and 10:15 am. Please see our guidelines for observation below.
Step 3 – Enroll your child
Once you are convinced that our school is the right fit for your child, complete the Enrolment Package and submit it at the School along with your non-refundable registration fee and non-refundable deposit.
Please note that as per section 75.1 of Ontario Regulation 137/15 under Child Care and Early Years Act, 2014 , Church Street Montessori does not maintain a wait list or charge a wait list fee for registration. We simply process enrolments in the order the application is received with full payments. While we can list your name to inform you when a spot becomes available, your spot can only be guaranteed when your enrolment package is received with your non-refundable registration and non-refundable deposit. We cannot provide verbal guarantees. If your application is received late and we no longer have a spot available for your child, we will return your application along with your registration fee and the deposit.